Throughout the past few years many aspects of Boston have been depicted in books (George V. Higgins, Dennis Lehane, Robert Parker novels and more) as well as in the cinema.  Most recently, Mystic River, Gone Baby Gone, The Departed to name only a few.  Not surprisingly the reader or viewer is mostly treated to the underbelly of the underworld–though there have been some exceptions—Good Will Hunting, for example.
As a detective fiction writer, I too use Boston as a background for my mysteries.  But the alpha and omega of my town is neither the crime world or its historical significance and the preservation of that history.
Boston's real backbone is its neighborhoods—each with their own name and often cultural differences.  The North End, seat of our Italian population, South Boston (about which much has been written and filmed), and many others like the South End, Roxbury, and Dorchester.
I live in Jamaica Plain (JP), one of Boston's most diverse neighborhood with a mix of Irish, Hispanic, gentrified Whites, African Americans, gay men and lesbians, and Asians.  During my thirty years of living here, I've watched the housing market undercut a swatch of that diversification with house and rental prices.  Still, there's a reasonably decent mix of community people, which, in a provincial city, is pretty difficult to find.
Over the course of a year there are Dominican and, Puerto Rican festivals, Little League, Wake Up The Earth parades and celebrations.  There are farmer's markets, night time lantern walks around Jamaica Pond (about a mile and a half in circumference), and in the deep of winter, public Caribbean parties.
But my favorite community weekend is Jamaica Plain Open Studios (JPOS) when local artists and crafts people line the streets, open their houses and apartments, use public spaces and local businesses to exhibit their work.  Begun around 1993 after the JP Multicultural Arts Center was forced to close for economic reasons, the yearly September event draws people from the entire city.  In fact, other Boston neighborhoods (Roslindale, South Boston, etc) have followed suit with their own Open Studio days.
I'm sure Boston isn't the only city that showcases its local artists, nor the only one with open studio weekends–whatever they're called.  But JPOS is mine and I want to present some sights from this past weekend.
This watercolor above by Peter Bass is of JP Center, the heart of the neighborhood and one of the major locations of JPOS.  Churches, theaters and  public buildings present groups of artists' work; individual artists open their homes.
Here are some examples of what we saw in the Center.  The first artist below turned out to be an old book rep friend of mine who has become a landscape designer and jewelry maker, Barbara Trainer and second two below are the work of Anna Koon.
The other end of JP was home to factories and their workers' housing.  Another center for artists is a restored brewery, now home to an annex of Sam Adams, and other factories that have been converted to artist spaces.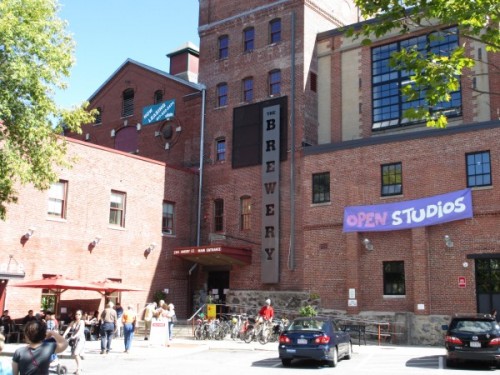 More jewelry, more crafts, more art.  We spent an extra long time in the studio of Maggie Carberry, whose work hangs in our kitchen and in the dining room of my in-laws.
Lest you think this show is just for adults, let me add one last picture:
I would love people to put their own community pictures on my author page on Facebook.  And if you feel like it, it would be great if you "liked" the page.