After last week's column about Mexico, a close friend pointed out that Sue and I had been in Mexico as tourists (true) and, as such, saw the best face of the country (also true). Went on to express her admiration of Mexican peoples' working and family ethos. Then added that Mexico's judicial system is based upon "guilty until proven innocent," something that is radically different (unless you're a person of color in the US) than our own "innocent until proven guilty." I immediately searched Google. Evidently, in June 2008 Mexico's President, Felipe Calderon, signed a law of national reforms of both federal and state level justice systems which included the presumption of innocence and a defendant's right to a public trial. The entire series of reforms are to be completely implemented throughout the country by 2016. Also, my friend neglected to mention that Mexico has no death penalty, an attitude a hell of a lot more civilized than here.
She also wrote about the high level of violence due to drug cartels and named a number of areas that included a high proportion of border towns. Absolutely true and horrible for ANYWHERE, but here's the rub. Cartels in Mexico control approximately 70% of the foreign narcotics that flow into the United States which includes, according to the US State Department estimates, 90% of the cocaine that enters our country. Let's get real here, we're the cartels' consumers. How about a sane drug policy that would significantly reduce the associated violence both in Mexico and the United States?
But these columns were never intended to bite into Mexico's social structure, legal system, immigration issues, or violence—as real as they are. We were tourists and my hope is simply to present facets of our neighbor most Americans never get to see. Believe me, there will be plenty of political posts from this seat. Just not today.
We chose to visit Oaxaca because Sue had been there a number of times (long ago) and thought I'd love the town, people, and its amazing history. Luckily we ended up with a high octane dose of all these things by chance. Turns out we visited Oaxaca City during the highlight week of the State's 482nd birthday. With huge posters announcing their "Cultural Blockade," streets were closed to cars to allow for a multitude of events including public story-telling,
We had stumbled into an amazing 24/7 party where entire families, from infants to grandparents, participated together. No spring chickens, even we realized that 482 years is something to celebrate.  And so we did.
While the festival was an incredible rush, it was Oaxaca State's complex history that was truly an eye-opener. Three millennia before the 1521 Spanish invasion, this region contained about16 different ethnic groups, each with its own language, culture, and traditions. Monte Alban had been inhabited over 1,500 years by a succession of peoples—Olmecs, Zapotecs, and Mixtecs and served as the Zapotec capital for thirteen centuries. Tough to swallow but Monte Alban was a city of 40 to 50 thousand people that, for no known reason, was abandoned beginning around 850 A.D. No known reason. That's one long term head-scratcher. Now Monte Alban along with Mitla (the second largest city in Oaxaca during the Zapotec heyday) are two of Mexico's most famous archeological ruins.
The Aztec capital of Gran Tenochtitlan — (which eventually became Mexico City) — fell in 1521 to Hernan Cortes of Spain. After the fall of the Aztecs, Oaxacan Zapotecs attempted alliances with the Spaniards. Instead Spain set out to conquer Oaxaca and grab all the gold and silver in its mountains–a shitload of money in them thar hills. But
the Oaxacan peoples were conquered, not by Spanish arms and soldiers, but by religious psychological warfare and an army of priests and friars. In 1560, the Dominicans reported that the natives were converted, completely docile and submissive.
Or dead. It's estimated that in 1519 when Cortes arrived the population of Mesoamerica was around 25,000,000 people. By 1605 75% to 90% were gone—primarily to European diseases against which the natives had no immunity.  A pretty grim annihilation.
We spent eight days in Oaxaca City and barely scratched its surface but I'd be remiss if I didn't mention that two of its most famous products are many different types of mole and a particular type of black pottery.
The last part of our trip was four days in Mexico City. Since we'd been there before and had visited most of the major tourist
sights and museums, we decided to stay at a small hotel located between two interesting neighborhoods—La Condesa and Roma. Although recently known to be artsy, the architecture is an incredible mix of Art Nouveau, Art Deco, and modern. (This mix is partly due to earthquakes which destroyed some buildings and left others standing so the rebuild created a mélange.) In fact, one of Mexico City's most famous Nouveau buildings is located in Roma.
There are many art galleries in the two neighborhoods and we found one small museum that was presenting an exhibit of artifacts donated by individuals that represented their broken relationships, along with the person's accompanying story. 
As if in contrast to the exhibit, on the sidewalk outside the museum, people kept putting locks proclaiming their love for each other on iron fences.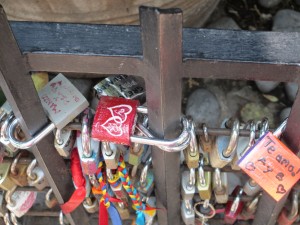 There were a ton of hidden treasures in both neighborhoods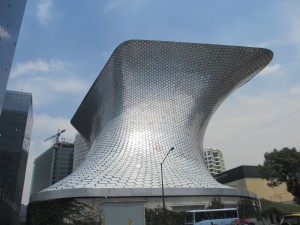 and, despite one trip outside to the city's new modern art museum, Museo Soumaya, after four days there was still more to see in these two neighborhoods; restaurants, parks, and walks.
I'm an urban guy with concrete in my blood so cities fascinate me. And Mexico City sits right up there with Paris (my favorite), New York, and San Francisco.
I'll end this piece where I began. I know there's an ugly underside to Mexico. An ugly underside to every country, really, and I hate those horrors. But there are times to grab hold of life's pleasures, and some of life's greatest pleasures exist south of our border. I just wish everyone had a chance to enjoy them.
The world is like that — incomprehensible and full of surprises~Jorge Amado