By
Zachary Klein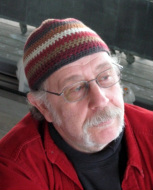 It's slipping into November and even with the complexity of television's indecipherable series/season release schedule, it's time to smile and write about one of my favorite mediums.
While it's true that my affinity for the box is due to long-standing childhood traumas (what else would an ex-psychoanalytic analysand believe?), I'm not bashful about my affection. I've used this space enough times for readers to know many of my television likes and dislikes. Still, there's always new ground to cover and that's especially true this time of year for sports fans. Baseball is rapidly moving into the World Series (the play-offs have been top shelf), football is concussing its way toward its midway point, and basketball and hockey are lighting up their arenas. We're talking the last vestiges of live television here and that's something to be treasured. Trust me, Ernie Kovacs is not walking through the door any time soon.
But there is another genre that while not done live, does purport to be real.
Okay, I'm gonna come out. Yes, I am a closet "reality show" freak. No doubt this admission will draw disapproving, baleful looks from Kelly, my writing partner, given her rants about House Hunters. But a guy's gotta to watch what he's gotta watch and, when it hits post-midnight, that usually means Law & Order reruns, Sportscenter, or SOMETHING ELSE. I usually scour for the ELSE.
I've been told the late night talk shows are dramatically better than ever. While I admire Colbert, Kimmel, Fallon, et al, I've never been a big fan of the format. At least not since Steve Allen so, more often than not (unless I'm really deep into insomnia and turn to C-Span for warm milk), I bang the clicker until I stumble upon "real."
Just to be clear, I'm not talking about good reality shows like Anthony Bourdain's. I save him for prime time. In fact, while I've always enjoyed all Bourdain's different programs, I am truly digging Parts Unknown above and beyond. It's allowed him to spread his wings and cover much more than dinner and drinks. Who'da thunk I'd really, really want to visit Vietnam?
I'm not a carpet sniffing junkie. I do have my bad show standards—albeit, set at a low bar. I don't watch Duck Dynasty or The Kardashians (though again, in obedience to my personal 12-step, I did spend an entire flight from Fort Lauderdale to Boston watching back-to-back episodes on JetBlue).
Pawnstars may never get me to Vegas, I'll never have the money to bring a classic to Counting Cars, and the thought of actually being in a semi barreling across the frozen tundra with Ice Road Truckers is beyond all belief. Still, when we're talking deep in the night, awake but too tired to read…sure I'll ride shotgun! Especially from under the covers.
But none of these shows are actually real, you say? Duh. Does anyone believe that Rick Harrison is a historical expert? Or that Chumlee knows anything about anything at all? In fact, there's a whole industry out there debunking these shows. According to one skeptic Russel Scott, as of 2012, his myth busting articles have been read by hundreds of thousands of viewers. (Near as I can tell he's shredded the reality of Pawnstars, American Pickers, Storage Wars, and Auction Hunters). What surprises me, though, is the possibility that there might be people who actually need these exposés.
Do you know anyone who makes a living bidding on vacated storage lockers?
Look, truth is not television's strongest suit. Just watch the news.
In fact, although staged, today's reality shows have a long and storied history. This Is Your Life ran on radio, then TV, from 1948-1961. Sometimes it was real, sometimes not so much. Didn't matter. The show was a hit.
And of course, there was the king of them all: Queen for a Day, which ran on the Mutual Radio Network from 1945 until 1957, on NBC Television from 1956 to 1960, then on ABC Television from 1960 to 1964. Queen for a Day became so successful that NBC lengthened its running time from 30 to 45 minutes in order to sell more commercials.
You all know the premise: Four women tell heart-wrenching tales about their tragedies and the one who ranked highest on the applause-o-meter won a ton of free shit. It was often difficult to understand how a washing machine would help with a child's disease, but what the hell. "Sure 'Queen' was vulgar and sleazy and filled with bathos and bad taste," wrote producer Howard Blake in an article for Fact magazine. "That was why it was so successful. It was exactly what the general public wanted….We got what we were after. Five thousand Queens got what they were after. And the TV audience cried their eyes out, morbidly delighted to find there were people worse off than they were."
So what exactly is it that I'm after during those sleepless hours? First, the ability to turn the fucking set off without a second thought when I'm finally ready to sleep. But almost as important, I enjoy looking at unusual "stuff" (How many years has Antiques Roadshow been on, highbrows?), or watching even a fake depiction of a lifestyle to which I've never been exposed. Yep. I binged on Amish Mafia. Sue me.
As far as I'm concerned television has nothing to do with truth (or consequences). Like I said, watch the news.
Note to Susan. You didn't go far enough with House Hunters. It's rigged.
Any fool can be happy. It takes a man with real heart to make beauty out of the stuff that makes us weep. ~ Clive Barker