by
Zachary Klein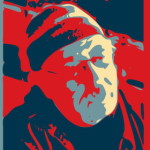 INTRODUCTION
Hard to believe, but In Cold Blood is fifty years old. Published in 1966, the book was not only a huge bestseller, but also a literary trailblazer. Capote kicked open journalism's doors (despite Norman Mailer's belief to the contrary) and they have remained open. A few recent examples quickly jump to mind: Serial, a This American Life podcast; Jinx, an HBO documentary; and, of course, Making a Murderer, a Netflix original documentary series. (A more complete discussion of MaM can be found @ http://zacharykleinonline.com/reviews/making-a-murderer/)
As some of you know, I enjoy interviewing the dead so, in November, 2012, I tracked down Truman Capote and spent a number of hours talking with him. Given his book's golden birthday I really wanted another interview but this time was met with hostility and refusal.
Me: "I don't understand. This is a celebratory moment. Why won't you talk with me?"
Mr. Capote: "Mailer. That's all the reason I need."
Me: "I thought you and I hit it off pretty well."
Mr. Capote: "As did I, until I read your interview with that self-serving braggart."
Me: "I wasn't particularly easy on him, you know."
Mr. Capote: "'To be perfectly honest,' as Nixon would mutter, it wasn't your interview per se. It was your decision to submit the Mailer interview rather than mine to that anthology.
Me: Ahh, you mean the one for my local bookstore? (https://www.inkshares.com/books/what-happened-here-year-one-at-papercuts-j-p-.) Truman, please. We're talking local, here."
Mr. Capote: Don't "please" me, Klein. Mailer, Mailer, and more Mailer—and that about wraps it up. Go talk to him again. We're finished.
And we were as he slipped back into his grave-site. No amount of knocking would raise him from the dead. Still, the fiftieth anniversary of In Cold Blood demands respect. So, to honor his memory and all the room he's given to generations of writers, I've decided to reprint my entire original interview. As Kenzaburo Oe once said, "The dead can survive as part of the lives of those that still live."
————————————————————
I'm taking this opportunity to follow Truman Capote's genre busting creation of the "nonfiction novel" with non-novel fiction—an interview with Capote himself. To that end we recently sat down and, I believe, both enjoyed our conversation. We met in a closed small tavern (I know the owner), called The Living Room where Mr. Capote sat on a club chair upholstered in peacock blue with me across a square table on a leather couch. Both of us drank sparkling water.
Mr. Capote: "Frankly, I was expecting the Ritz. Nothing this shabby." Capote leaned back in his chair, crossed his legs, and raised his small hand to his chin.
Me: "I wanted a place where we could talk without being interrupted, Mr. Capote. Plus, I don't know the owner of the Ritz."
Mr. Capote: "Just call me Tru. It's always so interesting to discover who one knows and doesn't. And I do so much enjoy interruptions. It gives me a chance to observe. And of course, it means that people haven't forgotten me."
 ME: "There's no chance of anyone who reads forgetting you. Anyone who ever saw you on television either."
Capote's hand dropped to his lap, as he leaned forward with a half smile.
Mr. Capote: "I really was famous, wasn't I?"
ME: "Very much so. In fact, so much so that many people believed it was your driving motivation to write."
Capote chuckled and shook his head.
 Mr. Capote: "I began writing out of loneliness and desperation. I'd been abandoned by my parents and was quite…different than anyone else—so I wrote. And wrote, and wrote. When my mother returned and brought me to New York, nothing really changed inside. Writing was all I wanted to do. To me, the greatest pleasure in writing is not what it's about, but the inner music that words make. And that music kept me sane. It's all I ever wanted to do until Perry…"
Capote's voice dropped to a whisper and his eyes began to rapidly blink.
Me: "Before we go there I want to ask about your statement that the music of words kept you sane. I wonder whether your first novel Other Voices, Other Rooms took it a step further. An opportunity to accept yourself, your upbringing, your sexuality?"
Capote's eyes kept blinking but he reached for his glass, took a sip and continued to lean forward.
Mr. Capote: "I've said many times that the central theme of Other Voices, Other Rooms was my search for who was essentially an imaginary person, that is, my father."
Capote ran the back of his hand over his forehead.
Mr. Capote: "You do know it debuted at number nine on The New York Times Best Seller list and remained on the list for more than two months!"
Me: "I do. It also seems that the novel helped you come to terms with your homosexuality."
Mr. Capote: "No, no, no. (Tru vigorously shook his head, almost spilling the water from the glass in his hand) Old news, darling. Frankly, I simply used that theme to make the book titillating. Looking down and back, perhaps it was my first stab at nonfiction novels. Although I must say, Other Voices, Other Rooms was an unconscious, altogether intuitive attempt to exorcise demons for I was not aware, except for a few incidents and descriptions, of its being to any serious degree autobiographical. Rereading it now, I find such self-deception unpardonable. I did know, however, exactly what I was doing when Harold Halma took my picture for the back cover. I wasn't completely oblivious."
Capote put his glass down and laughed delightedly.
Me: "Since you brought up the term "nonfiction novel," maybe we ought to begin talking about In Cold Blood?"
Mr. Capote: "Not yet, please. It's been a while since my last interview and, I must say, I'm enjoying it more than I thought. Also, it would be wrong to simply bypass Breakfast At Tiffany's."
Me: "You're right, Mr. Capote. Though it's still difficult for me to shake George Peppard's image as Paul Varjak."
Mr. Capote: "A gorgeous man, Peppard, too bad he spent so much time in the closet. Still, keep in mind I didn't cast him for the movie. That was out of my control."
Me: "Of course…"
Before I finished my sentence Capote placed his glass back on the table and sat at the edge of his chair.
Mr. Capote: "As badly miscast as he was, Peppard didn't annoy me. Tiffany did. They never really appreciated the way I put them on the map. They simply gave me some sort of bauble."
Me: "Do you remember what it was?"
Capote wiggled back in his chair.
Mr. Capote: "I don't care to try."
Me: "Not a problem. You know, of course, that after Norman Mailer read Breakfast he said, "Truman Capote I do not know well, but I like him. He is tart as a grand aunt, but in his way is a ballsy little guy, and he is the most perfect writer of my generation, he writes the best sentences word for word, rhythm upon rhythm. I would not have changed two words in Breakfast at Tiffany's which will become a small classic.""
Mr. Capote: "Small indeed. Certainly less pages than Mailer could ever write. And his remark that I'm a ballsy little guy and the most perfect writer of that generation was simply another way to insult me and my sexuality. I know George…"
Me: "George?"
Capote stared at me with rock hard eyes.
Mr. Capote: "Plimpton. George Plimpton. I might have been dead when he had the gall to say it, but I'm not blind or deaf. In an interview, he said I was at the top of the 'second' tier of writers and named Norman as being in the top. Now who do you imagine Norman really thought was the most 'perfect' writer of his generation?"
Capote raised an eyebrow but his stare remained cold as steel. But I couldn't help myself and burst out laughing. Eventually Capote joined in as both of us contemplated Mailer's massive ego.
Me: "Point taken."
I glanced at the clock.
Me: "This has taken longer than I had anticipated but I'd hate to end now. Would you mind staying longer or maybe meet at another time to finish?"
Mr. Capote: "Oh dear boy, I'd be happy to stay. I really don't get out much anymore. But there is a condition."
Me: "Yes?"
Mr. Capote: "I simply need something, uhh, better to drink. Remember, I do live in a dry town."
I certainly didn't want "Tru" to leave so, I scrambled behind the bar and quickly mixed two screwdrivers—vodka, orange juice, orange slices.
Mr. Capote: "Ahh, my orange drink.  You did your homework well."
Me: "It wasn't difficult."
Mr. Capote: "I suppose not," he said with a sigh, before taking a long sip from the glass.
Mr. Capote: "It is quite good, thank you and you made doubles. I hope you write as well as you bar-tend. Or perhaps I really don't care."
I placed my glass on the table, took a deep breath, and climbed back onto the saddle.
Me: "I hope so too. But now I think we ought to talk about In Cold Blood."
A small smile played at the corners of Capote's mouth but his eyes saddened.
Mr. Capote: "It was a hell of a book, wasn't it?"
Me: "Is a hell of a book. I call it genre busting, but even that doesn't really express the sheer intensity and importance of the work.
Mr. Capote: "That intensity cost me my life," he said quietly.
Me: "Perry Smith?"
Mr. Capote: "Oh yes, he was a major part, but everything about those six years of living in Kansas for long periods of time, especially in the beginning and the end left me empty, dry."
Me: "Even though Harper Lee was there to help you?"
Capote sat taller in his peacock blue chair.
Mr. Capote: "No, no, no," he said, that hard look returning to his eyes. "Harper and I were childhood friends. I thought bringing her to Kansas might help her with her own writing. She had very little to do, however, with either the research or writing of Blood. She did help me get to know a wide range of people who might not have trusted me otherwise. Harper is a very likable woman."
Me: "She was pretty upset that you shared the dedication and didn't even mention her contributions to the book."
Mr. Capote: "Would she rather I had written that I appreciated her amicable personality since that was her contribution? But really, her upset was just a trickle of blood under the bridge. We did remain friends until I died."
Me: "Much has been written and speculated about your relationship with Perry but very little about Dick."
Mr. Capote: "Dick wasn't particularly interesting, really. He just wanted the Clutters' money safe and when he discovered they didn't have one, simply wanted to get away."
Me: "But Perry said in his confession that Dick shot the two women."
Capote waved his hand dismissively.
Mr. Capote: "Nonsense, and Perry of course knew that. Which was why he never did sign that confession."
Me: "So Smith told you that he did all the killings?"
Mr. Capote: "He didn't have to. Only he had the makeup to murder."
Me: "Was that what drew you to him? So many people have thought you were in love with him and that his hanging was the death of your creativity."
Capote finished his orange drink, placed the glass on the table, and leaned back with closed eyes.
Mr. Capote: "People often see things quite superficially. I did love Perry, but it wasn't the love of lovers. As the years passed, our correspondence and relationship grew very, very intimate. When his death grew closer and so much more real, I finally began to understand our relationship: we were the same person, although I used words to express my violence. It was as if we grew up in the same house as one person, then split apart as I went out the front door, and he the back."
Capote opened his eyes, blinked furiously, then slumped back into his chair.
Mr. Capote: "Of course I was shattered by Perry's hanging. And Dick's. So many years of trust, of intimacy, of caring—and yes, love. Then to watch as he—they—twisted and writhed for ten minutes hanging from their ropes. How can one not be devastated?"
Me: "It didn't stop you from living it up in grand style when the book became a huge success."
Mr. Capote: "A bit tart, aren't you? Which bothers you more, the book's success or my wonderful swans?"
Me: "Neither, really. Well, maybe the success. But now that you mentioned your swans…"
Mr. Capote: "My society women. Not just the women, but the men as well. Frankly, everyone who was anyone begged for an invitation to The Black and White Ball. I actually had to run away and hide weeks before the party."
Capote's eyes lit up.
Mr. Capote: "What a night! Heavens, the guests from Kansas wouldn't leave when it was over. But watching people scramble to get an invitation, well, that was even more pleasurable than the Ball. It's quite hard not to be seduced by such attention—especially after experiencing heartbreak and the small death of myself after the hangings. During that time of life I did feel empty, written out. It was only fair to appreciate the accolades and bask a bit. I paid for it and I don't mean the cost of the party—though of course I paid for that as well."
I grinned in order to contain my laughter.
Me: "Bask a bit? Mr. Capote, you were all over every television talk show and newspaper."
Mr. Capote: "Well, perhaps 'a bit' is actually an understatement. But you've looked at my life. You've seen how quickly people can turn on you. On me!"
It was my turn to shake my head.
Me: "Uhh, it was you who decided to pen a roman a` clef.  And you who published 'La Côte Basque 1965' in Esquire.  And you didn't let it go. I can only imagine your friends' fear and rage while they waited for the other shoe to drop in that follow-up book you were bragging about, Answered Prayers."
Mr. Capote: "What could they possibly have expected? I'm a writer!"
Me: "I don't think they expected you to write about them.
Capote's head drooped.
Mr. Capote: "They got their revenge."
Me: "Their ostracism didn't seem to stop you. Studio 54, Warhol's loft scene. You partied like it was 1999.
Mr. Capote: "I partied better than those in 1999. Remember, there are many ways to die. Which, having said, I really must leave. I can't say this has been entirely pleasant, but it's good to get out occasionally."
Capote began to slide off his chair.
I stood up with him.
Me: "I have just one more question—did you ever complete Answered Prayers and, if so, who has the manuscript?
This time a wide smile crossed his face.
Mr. Capote: "That, my friend, is an answer I will take upstairs."
 "Everything he had set out to do Truman succeeded in doing," wrote Gerald Clark in his 1988 Capote biography. "On a superficial level, 'In Cold Blood' is a murder story of riveting vitality and suspense. On a deeper level, it is what he had always known it could be, a Big Work – a masterpiece, in fact, that he has infused with the somber energy of a Greek tragedy."