are falling from my head…
By
Zachary Klein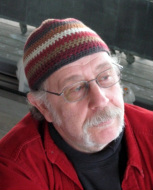 We're approaching summer's dog days and I'm feeling pretty mellow, so deciding what to write this week has been difficult. It's always easier for me if I have a mad on and Germany's attitude toward Greece jumps to mind. Or how 'bout them sorry Sox? But mellow is rare, so I might as well see where it takes me.
We recently had a great time at Fenway Park. It was a beautiful night and, as I looked around the field, I realized how impressive a renovation had been done by Janet Marie Smith, the architect of Baltimore's Camden Yards. Despite adding a significant number of seats and signage to the oldest field in baseball (1912), Ms. Smith somehow made the relic a much more welcoming place while keeping its traditional feel and atmosphere. (Not the ticket prices, though, which are the highest on average in Major League Baseball.) It was a fun night even with the Sox loss–to be expected this season.
And speaking of renovations, despite my writing partner, Susan's send up of HOUSE HUNTERS in last week's column, Sue (my wife) and I are gearing up for our own major league kitchen rebuild, replete with wall removals, open floor plan (NOT!), and granite vomitori—whoa—make that countertops. Reconstruction begins sometime in August and I'm fervently hoping that it takes a little less time and is much more successful than our Country's. Not gonna bet on it though.
Ahh, betting. The Casino War still rages on in Boston. Although voted FOR by almost 60% and supported by rejecting another referendum which tried to overturn the first, a number of politicians are still trying judicial end runs–Including our mayor.
I understand the issues people have with gambling and have some mixed feelings myself. But voters, tired of seeing millions and millions of dollars flow to Connecticut's casinos, spoke loudly and clearly TWICE. My biggest regret is that Boston won't allow a den of inequity on one of the harbor islands. And not because The Donald is a bidding developer because he isn't.
No surprise, really. The "Athens of the East" clings to its puritanical ancestry despite our current liberal reputation. Clings to many anomalies. Just ask anyone of Color or eyeball the vast sea of White faces while catching a game at Fenway.
Not sure why, but somehow all that White makes me think of Greece. (I tried not to. Really.) Excuse me, but what two-faced crazy is running around in Germany's head?
"London School of Economics and Political Science Professor of Economic History Albrecht Ritschl conducted research into how Germany was able to pay off its debts after the two World Wars. In particular, his re-interpretation of the scale of financial payments to, and debt forgiveness for Germany after World War II shed new light on the approach that modern-day Germany should take towards debt-ridden countries such as Greece. Ritschl looked in detail at the financial assistance that was paid to Germany after the war under the Marshall Plan, in which the US gave $17 billion – around $160 billion in today's values – in economic support to help rebuild European economies. He showed that while the transfers were tiny, the cancellation of debts was worth as much as four times the country's entire economic output in 1950 and laid the foundation for Germany's fast post-war recovery."
It seems pretty obvious the terms of Greece's "bailout" will crush the poor and working people of that country—but fuck 'em. Let's make sure the greed-heads get the interest owed. Every goddam Euro.
And now you got me started. What's with the response to the Iranian deal? This is a no-brainer but once again the human no-brainers are running their mouths. If Reagan's administration had pulled this off, all the pols would be kissing his ass. Hell, Nixon cut a deal with China when Mao was still alive! Since it's Obama's administration though, both Democrats and Republicans are talking stupid. Batshit racists, whether they know it or not.
Sorry about that. I said no rants….
especially since this has been a fine week. Belated birthday dinner with a good friend, a rooftop dinner with other good friends, and a visit to the Boston's Greenway's amazing new installation by Janet Echelman, an aerial shape and color shifting translucent public art sculpture.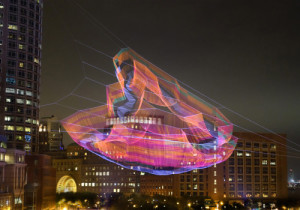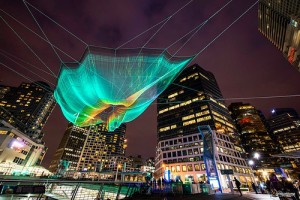 (For more information about Ms. Echelman's wonderful piece, including a time-lapse video of the installation check out http://www.echelman.com/project/boston-greenway/. You won't be sorry.)
Thank you Big Dig for stitching my city back together and creating space near the ocean for beauty.
It never ceases to amaze me how little public art is offered in our cities compared to say, Mexico or France. But hey, that's a topic for another week.
Told you I was feeling mellow.
The mind is its own place, and in itself can make a heaven of hell, a hell of heaven. ~ John Milton