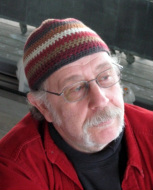 By Zachary Klein
I'm an outspoken pacifist. I cover my eyes while watching most violence I see on television or in the movies. And I continue to believe in humanity, despite the gruesome reality that surrounds us.
I also earn my living writing about murder, betrayal, greed, and as much of the dark underside in our society as I can possibly perceive and understand.
What's wrong with this picture?
Nothing. Writing is an art and I believe that every type of art gives all of us the space to experience the truly ugly strands of human nature without having to act them out. I'll go even farther. It doesn't have to be art. I believe the same about pornography, politically incorrect movies, and any "make believes." I feel exactly the same about video games—though I haven't played one since Tetris.
I know the argument that viewing/reading violence, sex, and the politically incorrect, actually encourages people to act out their inner uglies. I just don't believe it. Worse, arguments like those have tightened control on what we can see, listen to, write and produce. We've lost a serious amount of creative space, not added. In fact, I think that throughout history, restriction and censorship has done more damage than what it tries to condemn.
A few nights ago Sue and I were flipping through mainstream channels, spotted the film Airplane, and stopped to watch—though we'd seen it a boatload of times. The movie had been released in 1980 and, at the same moment, we turned to each other and agreed that it would be impossible to make that movie now. "Have you ever seen a grown man naked?" pilot Peter Graves asks a little boy. (Not allowed to crack wise about pederasty these days.) A stewardess blows a rubber doll. (Where besides a fetish flick can you watch that?) An airport manager sniffs glue. And much, much more that defies our current cultural zeitgeist. Nothing in the movie was sacred. Oh, Airplane was rated PG.
The politically incorrect parts were making fun of and lambasting racism, sexism, drug use etc, rather than promoting it. Know what? Our kids did not grow up traumatized from sexual innuendo. (Who do you know that became a racist after watching Blazing Saddles?) No matter how you slice it, there's a loss here.
I'll grant my belief that every type "make believe" as a space to allow the worst of ourselves to be harmlessly encountered is difficult to conceive. Especially since we live in a world with an amazing amount of violence and perversity that has always, and continues, to exist. It's tough to see how crime writing has reduced crime when crime is rampant. That writing about murder has reduced killing. But I believe it's tough to see because the gift of imaginary freedom has always been buried under reality. And reality isn't particularly pretty.
We've been socialized to think entertainment is simply that. For fun. That art is something to read, watch, and sometimes feel. And it's that socialization which has reduced the power of "make believe" and I believe added to real life's crushing brutality.
So before we can get an honest answer to my proposition, we actually need to eradicate the social/political/poverty and race issues that cause the actual violence in which we live. Only please don't hold your breath waiting for that to happen.
Even if we were magically able to staunch the blood flow, there will always be an underside in everyone and that's not going anywhere. Except into imagination which I as a reader and writer hold most dear. For the "make believe" we read in crime fiction or see in violent movies or hear in some dark music is a space that allows us to visit, explore, and treat the worst parts of ourselves—harmlessly, and then come back to our normal lives and sit down at the dinner table.
I'm not saying I write detective fiction simply for the good of humanity. In past columns I've mentioned the wonderful similarities I see (and sometimes get to enjoy) between playing jazz and writing detective fiction. (To be honest, probably more traditional jazz than total free-form.) The excitement of taking a paradigm and pushing at its boundaries. The novelist's pleasure of bringing their audience into unknown places and unexpectedly intense situations.
But more than the personal enjoyment, I believe that, without proof, our work as crime writers contribute to the hope of a better, less violent, more tolerant world. And whether or not we collectively, cognitively, acknowledge it, all the multiple forms I mentioned above give promise to that hope.
We need imaginary violence. We need a place for kinkiness, we need a space in which we can safely (for ourselves and others) try out anything we want to be—without actually being it and without fear of reprisal.
We need more Breaking Bads, Sopranos, Deadwoods, Big Sleeps, Red Harvests, and especially more movies like Airplane.
You can't depend on your eyes when your imagination is out of focus ~ Mark Twain