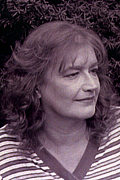 And for what I hope will be a good long time.
I am thrilled to announce that Susan Kelly will be alternating with me on Monday's "Just sayin'" columns. Her first post will appear on the 18th.
I can't begin to tell you how much pleasure this gives me. Susan and I go way back to the days when Kate's Mystery Bookstore in Cambridge, MA, (sadly no longer there) was the place to hang if you loved mysteries. Virtually every New England mystery writer consistently stopped by and, once a year, we all would invade Kate's and showcase our books together. If you wanted to meet Robert Parker, he'd be there. Bill Tapply? Yep. Jeremiah Healy, a regular. Katherine Hall Page—for sure. Susan Kelly? Always.
When I say "go back," I mean we became friends. We enjoyed each other's work and respected each other's abilities. (Actually, I've always been somewhat jealous since her range of writing–detective fiction, interviews, non-fiction–is far greater than my own.) We'd lost track of each other for a long time for a variety of reasons (not the least of which was my disappearance as a writer) but over the past year we've reconnected. Those of you who are steady readers of this column will recognize the title Beach Bitch as hers, a guest column she wrote a while ago.
The breadth of Susan's work is pretty amazing. Her fictional LIZ CONNER SERIES focuses on a crime writer who investigates crimes and writes about them. Her non-fiction work is impeccably researched with a curiosity and demand for truth. Just read THE BOSTON STRANGLERS and you will see what I mean. One look at her website says it all. Well, perhaps not all; Susan writes with style and grace but is too modest to say so.
She's also damn funny and irreverent and will have you, at times, smiling and laughing. I'm looking forward to a new and better "Just sayin'" column and believe that you're all gonna love Susan's work as much as I do.
Besides the pleasure of our collaboration, I have another reason to write every two weeks. Frankly, I want the time to really dig in and research issues I care about. Plus, I also want to get back to my INTERVIEWS WITH THE DEAD series and, to do them well, takes more time than a week gives me.
So, while I might be a bit biased, I think those of you who read her columns and pick up her books will land in the same place as I am. Lucky to have her on board.